On May 5th 1958 a partnership between Larry Kelly and Michael Gleeson began trading under the name of Larry Kelly. Larry was a former class mate of Michael's and fellow hurler with their local parish team Eire Og Annacarty. Michael took responsibility for bookkeeping and administration. Larry for deliveries, sales etc.  Michael also introduced an advertising policy which had positive effect on the business to the extent that in August of that same year a second lorry had to be purchased.
In 1959 the business expanded in another direction when they began to manufacture concrete blocks. The original process had an output of sixty blocks per day, involved manual labour and the use of a Thumper.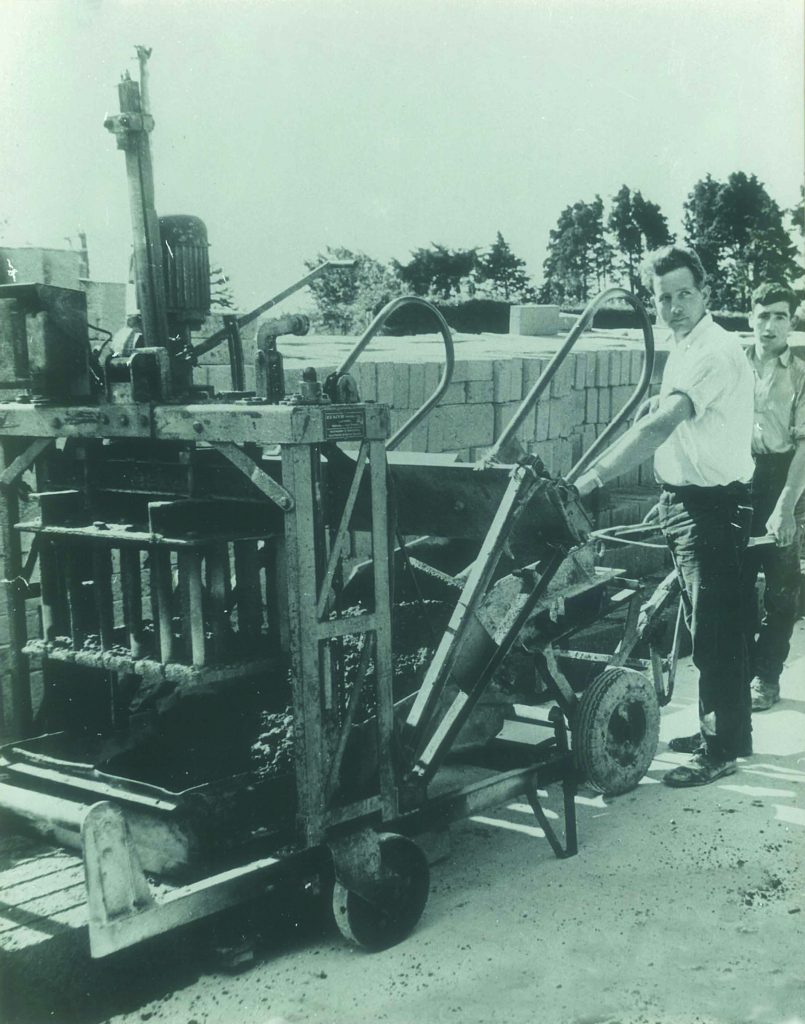 However in conversation with a customer, Michael and Larry learned of a new machine which could make four blocks at a time. On further investigation they discovered a machine which was capable of manufacturing one thousand blocks per day.
During the 1960s Kelly & Gleeson as the company now became known, experienced considerable growth with operations at both Horse & Jockey and Donohill. Between 1968 and 1969 Kelly & Gleeson became involved in Readymix trade. By 1970 they were employing eighty people, thirty in Donohill and fifty in Horse & Jockey. The company continued to grow and in the early 1970s were supplying a catchment area which included Counties Tipperary, Limerick, Cork and Kilkenny.
The sudden death of Larry Kelly in June 1975 during a strike brought to an end a seventeen year partnership and saw the dissolution of the original enterprise and redundancy of all employees.
Michael Gleeson recommenced trading on April 2nd 1976 from Donohill, with a new company Gleeson Concrete Ltd.  The aim was to gain a position on the high quality end of the market providing high customer service. By 1978 Gleeson Concrete had regained some of its former position and was growing again.
The 1980s though were a difficult time in both social and economic history of rural Ireland but despite this the Company saw it through and towards the end of the decade, in 1987, a limestone quarry at Laffansbridge, Thurles was acquired.  Gleeson Quarries was subsequently established and the company began trading in 1988 with the aim of supplying materials to the road building industry, major construction and agricultural lime markets.
Since 1995 Michael's sons, Peter, Micheál and Bill began joining the business and in recent times the brothers have carved out their own individual markets. Peter has continued to expand operations at Laffansbridge, catering for customers in the Mid/South Tipperary region, Kilkenny and North Waterford areas. Micheál continues to operate the original business from Donohill and Crogue servicing customers in West Tipperary, North Cork and East/South Limerick. Bill established a new business Gleeson Precast at Golden, Tipperary in 2004. Gleeson Precast specialises in manufacturing precast concrete septic tanks, waste water treatment systems, rainwater harvesting tanks and water troughs for the domestic agricultural and environmental markets. Along with these specialised products Gleeson Precast also offers a complete range of quality limestone quarry products for the domestic, agricultural, landscaping and civil engineering markets.